4 June 2022
UK Bus Awards organisers have paid tribute to the late Barry Moore, who served as the organisation's first chair. Barry, retired MD of Ipswich Buses, died suddenly at home on 17 May.
He worked with the UK Bus Awards (originally the Bus Industry Awards) for 18 years, serving as its first chair from its foundation in 1995 until 2004, and then as Minutes Secretary to the Management Committee for a further nine years, stepping down in December 2013.
Born in Bournemouth and originally trained as a research chemist, Barry joined the bus industry in the traffic office at Leicester City Transport, before being selected for the Municipal Passenger Transport Association Training Scheme, ultimately returning to Leicester and holding a variety of posts, before being promoted to Traffic Superintendent.
In 1974, he moved to Plymouth as Deputy General Manager, before moving to Ipswich as General Manager five years later. At deregulation in 1986 he was appointed as managing director of the new arm's length company. He took early retirement in 1995, later becoming a Suffolk County Councillor for four years, also doing research work for a local MP and acting as a campaigner for pressure group Transport 2000 (now Campaign for Better Transport).
Chris Cheek, UK Bus Awards director, who worked with Barry throughout his time with the awards, commented, "Barry was highly instrumental in the early success of the awards, and was a great personal support to me and other members of the team. After such a distinguished career, he was held in high regard throughout the industry, and his calm demeanour, gentle sense of humour and deep knowledge of the business were invaluable."
"He will be sorely missed," he added, "and we all send our deepest condolences to his wife Muriel and his family."
ENDS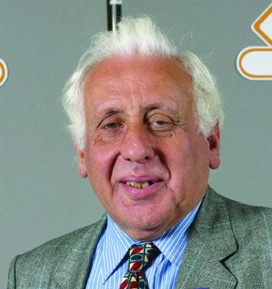 Barry Moore on duty as Bus Industry Awards chair in Golden Jubilee year, 2002.